---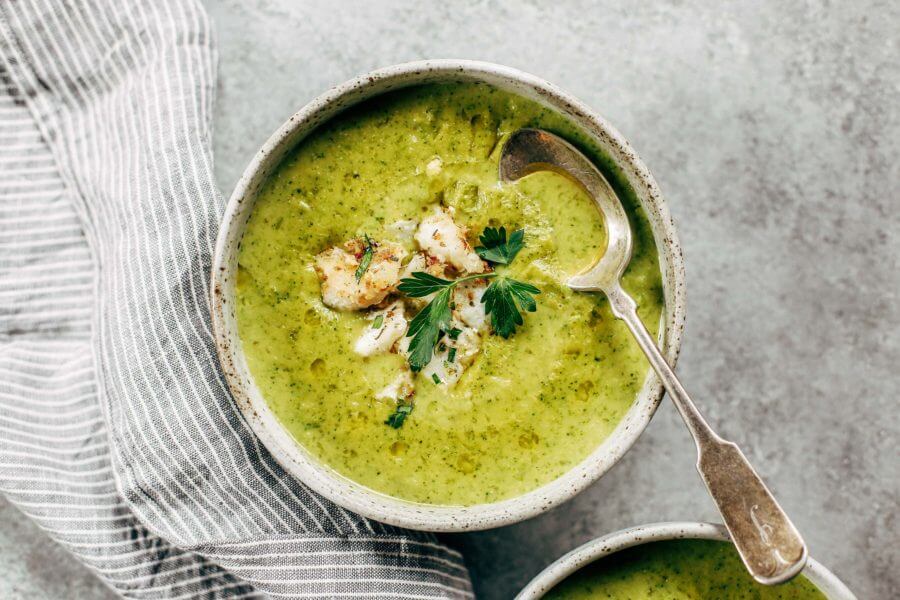 Creamy broccoli chowder with herb crusted cod. The perfect creamy and cozy soup for moody spring days. Paleo, dairy free, and whole30. Can be made ahead and frozen!

Print Recipe Creamy Whole30 Paleo Broccoli Chowder Creamy broccoli chowder with herb crusted cod. The perfect creamy and cozy soup for moody spring days. Paleo, dairy free, and whole30. Can be made ahead and frozen! Ingredients Soup Main Dish Votes: 3
Rating: 4.67
You: Rate this recipe! Info Cook Time 6 minutes Prep Time 8 minutes Servings servings MetricUS Imperial Course Main Dish Votes: 3
Rating: 4.67
You: Rate this recipe! Ingredients Soup
In a soup pot combine ingredients (except tapioca flour) for soup until hot, then sprinkle tapioca flour over soup and stir continuously until thickened. Do not over cook from this point on, because it will become too thick from the tapioca flour.
Blend in a blender until soup reaches desired consistency.
Toss cod with seasoning to taste and cook on a cast iron skillet with a drizzle of olive oil for 3-5 minutes until it flakes apart with a fork. Serve with soup.
Nutrition Facts Creamy Whole30 Paleo Broccoli Chowder Amount Per Serving Calories 328 Calories from Fat 144 % Daily Value* Total Fat 16g 25% Saturated Fat NaNg 0% Trans Fat NaNg Polyunsaturated Fat 2g Monounsaturated Fat 11g Cholesterol NaNmg 0% Sodium 850mg 35% Potassium 402mg 11% Total Carbohydrates 32g 11% Dietary Fiber 5g 20% Sugars NaNg Protein 17g 34% Vitamin A 11% Vitamin C NaN% Calcium 6% Iron 17% * Percent Daily Values are based on a 2000 calorie diet.
Read more