---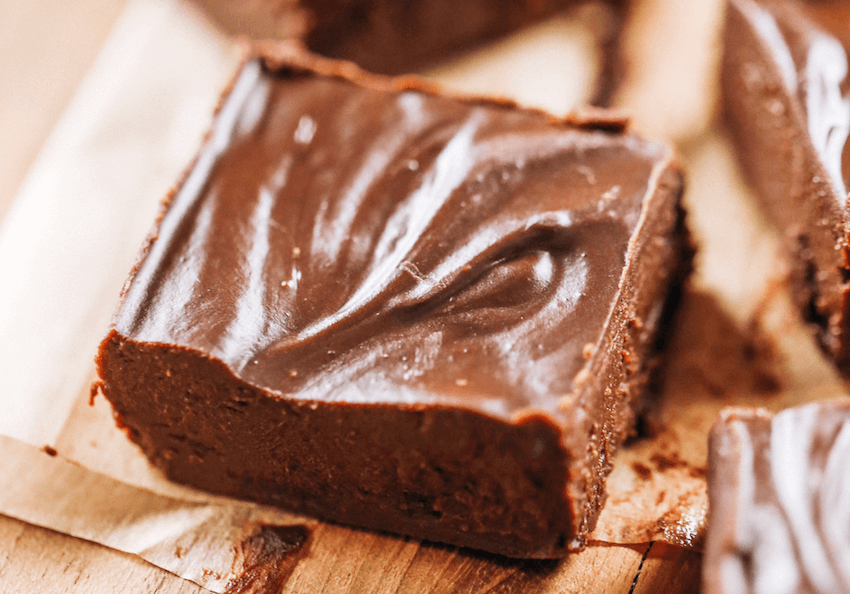 Easy homemade fudge recipe, made with just two ingredients! Melt in your mouth paleo fudge recipe anyone can make at home in their kitchen. Perfect freezer-friendly healthier candy option to have on hand.

Print Recipe Homemade Fudge Easy homemade fudge recipe, made with just two ingredients! Melt in your mouth paleo fudge recipe anyone can make at home in their kitchen. Perfect freezer-friendly healthier candy option to have on hand. Ingredients Info Prep Time 5 minutes Servings pieces MetricUS Imperial Course Dessert Votes: 14
Rating: 3.86
You: Rate this recipe! Info Prep Time 5 minutes Servings pieces MetricUS Imperial Course Dessert Votes: 14
Rating: 3.86
You: Rate this recipe! Ingredients Instructions
In a saucepan or double boiler, heat coconut milk until hot, but not boiling, then remove from heat and add chocolate chips and set for 30 seconds until melted.
Stir until the mixture is completely smooth, then pour into a 4" by 8" pan lined with parchment paper and cool in the freezer until solid (about 1 hour).
Slice into about 1" squares and serve or store in freezer.
Nutrition Facts Homemade Fudge Amount Per Serving Calories 109 Calories from Fat 63 % Daily Value* Total Fat 7g 11% Saturated Fat 5g 25% Sodium 2mg 0% Total Carbohydrates 14g 5% Dietary Fiber 1g 4% Sugars 9g Protein 1g 2% Iron 8% * Percent Daily Values are based on a 2000 calorie diet.
Read more