---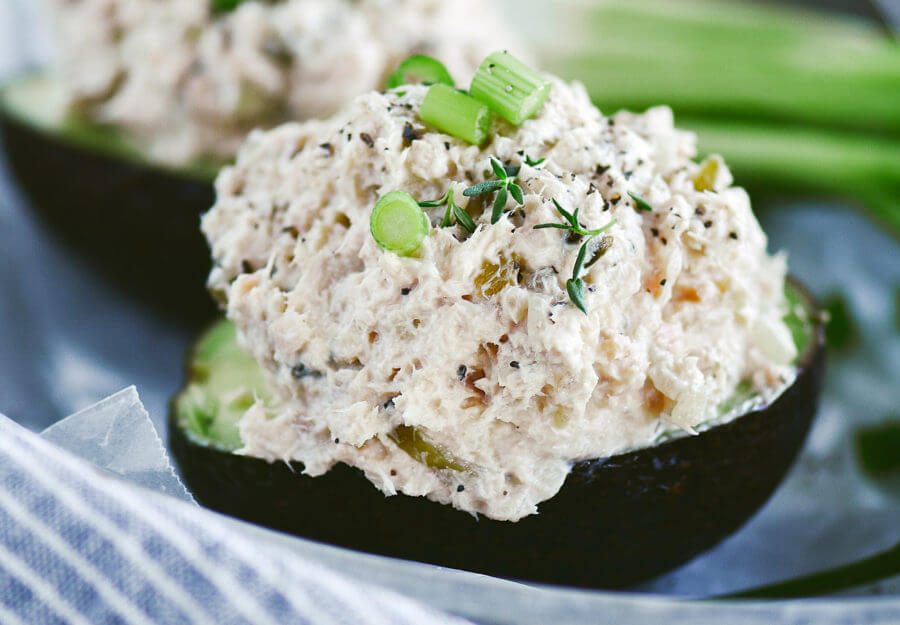 Easy whole30 avocado tuna boats are filled with a creamy tuna (or salmon) filling and topped with fresh herbs. A delicious, healthy, and easy way to do lunch whole30 and paleo style! Ready in only 5 minutes!

Print Recipe Creamy Whole30 Avocado Tuna Boats Easy whole30 avocado tuna boats are filled with a creamy tuna (or salmon) filling and topped with fresh herbs. A delicious, healthy, and easy way to do lunch whole30 and paleo style! Ready in only 5 minutes! Ingredients Info Prep Time 5 minutes Servings servings MetricUS Imperial Course Main Dish Votes: 5
Rating: 4.8
You: Rate this recipe! Recipe Notes

You can top the boats with extra chopped green onion and fresh thyme leaves if you like.

Info Prep Time 5 minutes Servings servings MetricUS Imperial Course Main Dish Votes: 5
Rating: 4.8
You: Rate this recipe! Recipe Notes

You can top the boats with extra chopped green onion and fresh thyme leaves if you like.

Ingredients Instructions
For the filing combine all the ingredients (except the avocados) and mix.
Fill the avocado halves with a large scoop of filling (I use an ice-cream scoop for this). Top with more green onion and fresh thyme leaves if you want.
Nutrition Facts Creamy Whole30 Avocado Tuna Boats Amount Per Serving Calories 244 Calories from Fat 171 % Daily Value* Total Fat 19g 29% Saturated Fat 2g 10% Polyunsaturated Fat 6g Monounsaturated Fat 9g Cholesterol 22mg 7% Sodium 305mg 13% Potassium 454mg 13% Total Carbohydrates 12g 4% Dietary Fiber 5g 20% Sugars 3g Protein 8g 16% Vitamin A 0.3% Vitamin C 11% Iron 8% * Percent Daily Values are based on a 2000 calorie diet.
Read more