Whole30 Spanish Chicken And Cauliflower Rice
---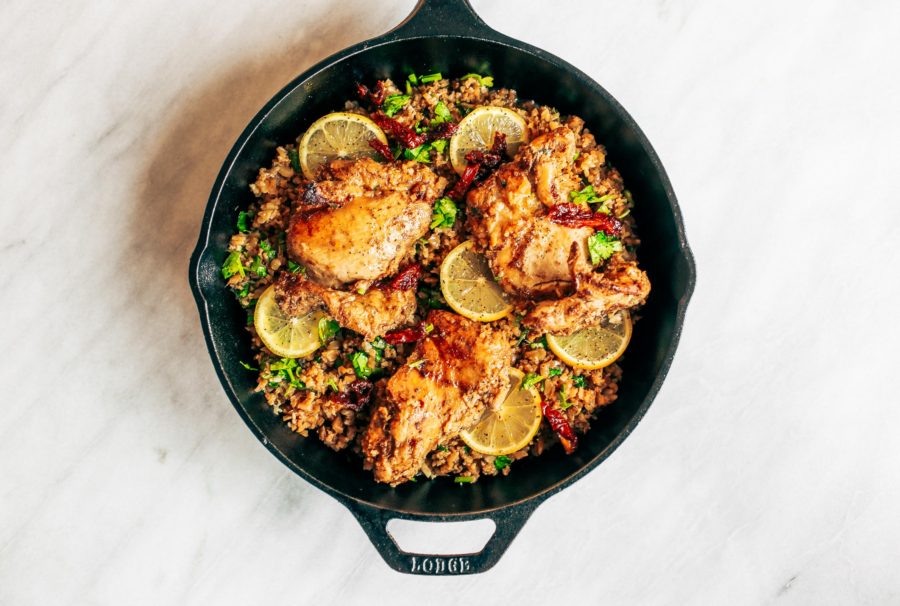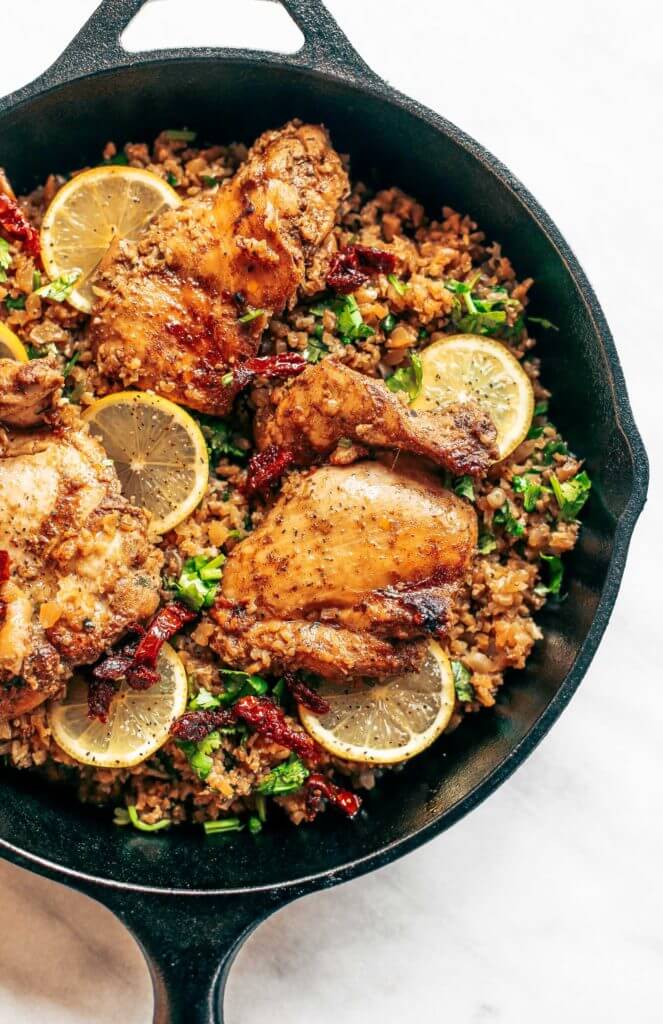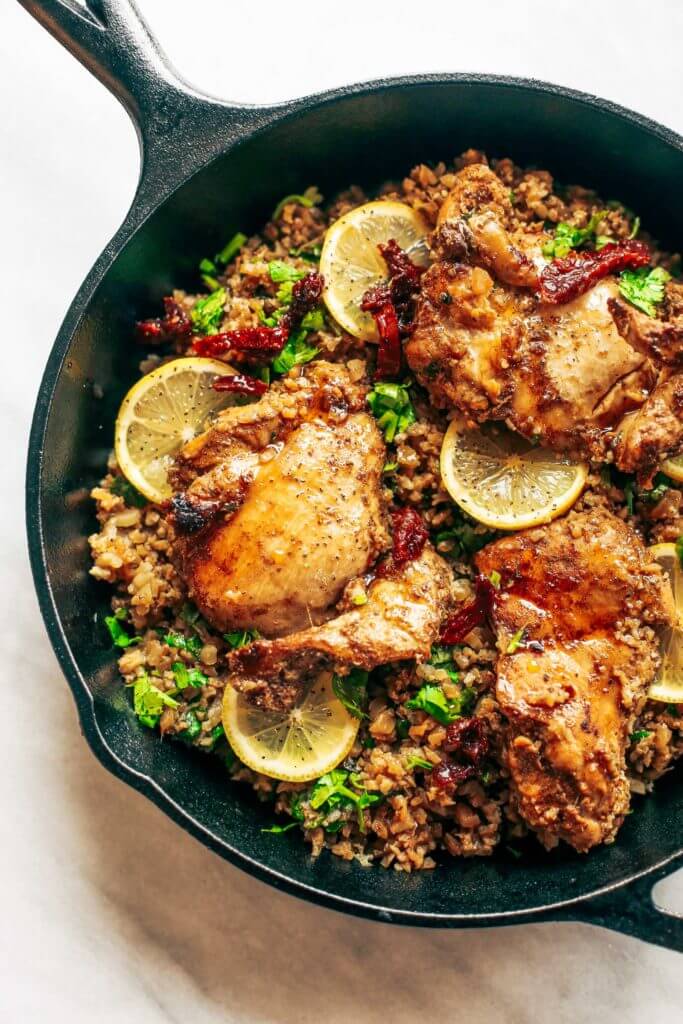 One pan Spanish cauliflower rice made in 25 minutes! Bursting with flavor! Paleo and whole30 friendly. Made with lemon, cilantro, chicken, and cauliflower rice. This one-pan skillet recipe makes for fast and easy meal prep.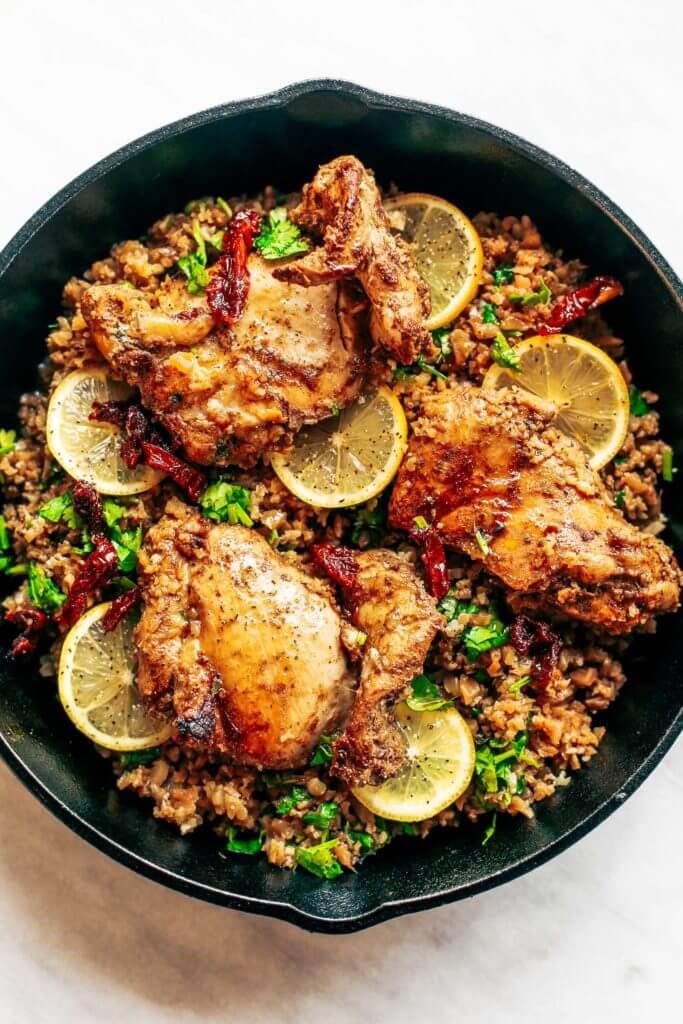 Droolllll.
Ugh, you guys.
Never did I think, dream, imagine!
No one could have seen it coming… the utter need to faceplate into a oversized pile of Spanish cauliflower chicken and "rice".
To you it may seem healthy, but wait until you try it! It's just GOOD, you'll never know it's just 200 calories per serving.
You don't think about healthy when you are eating Spanish chicken and cauliflower rice, there's no room for that.
Only room for delicious thoughts like:
I WANT MORE!
I can't believe that was so easy to make!
Can I have another serving?
I hope nobody else wants any!
Oh no! Am I already at the bottom of the pan (drop the fork).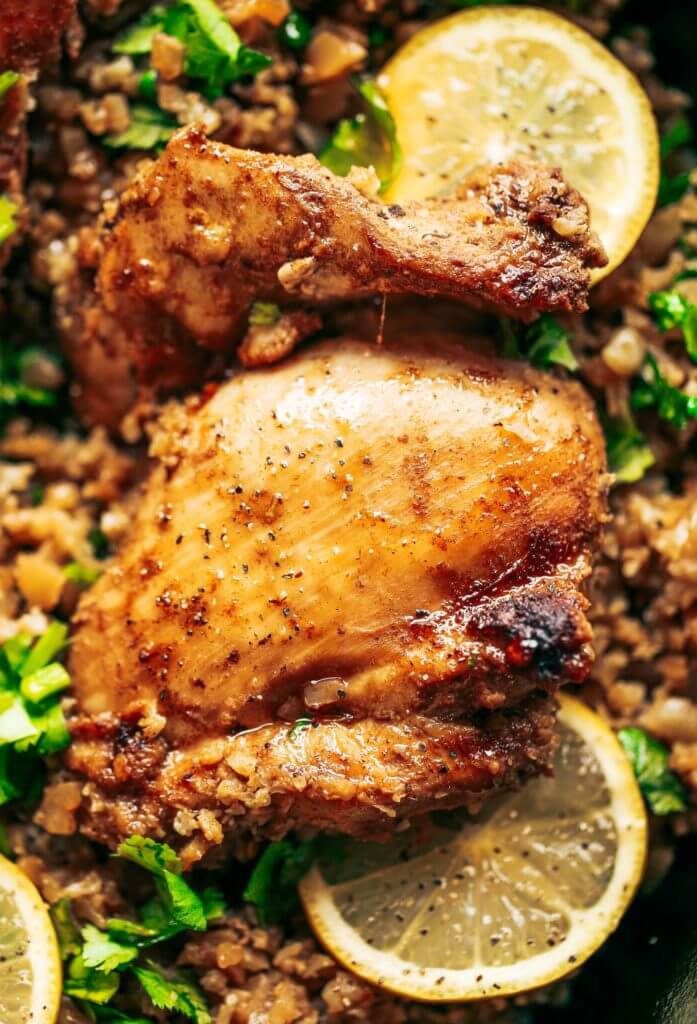 Spanish cauliflower rice is the best!
Okay, now that we have covered the fact that you need this in your life, let's talk details.
Cauliflower rice is a healthy sub for grains, and thanks to (most) stores, you don't even have to make it at home anymore!
Just add a bag of cauliflower rice, some spices, fresh herbs, lemon juice, and that glistening herby/lemon chicken and you have yourself a weeknight-in dinner made in minutes; worthy of Netflix, pj's, a square of dark chocolate for dessert, and second servings!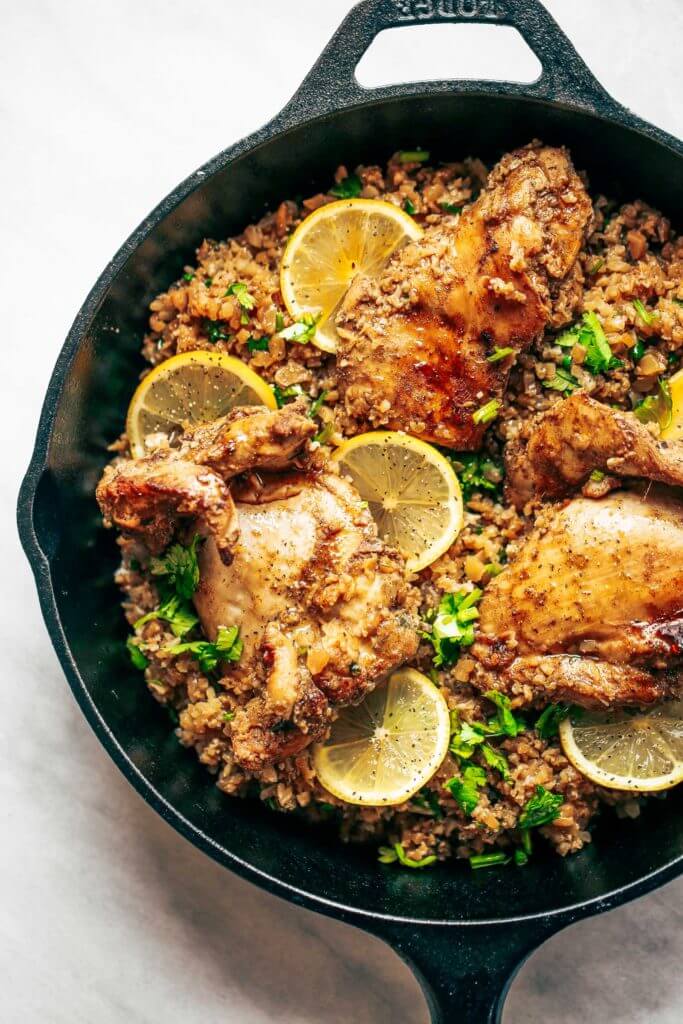 Every reason I love this one pan dinner that tastes like HEAVEN:
New, exciting, fresh-flavor like, where have you been my whole life!?
Secretly healthy ingredients, see: cauliflower rice.
Meal prep friendly. In essence, can be stored in the fridge or freezer in single serving sizes for later.
EASY.
YUMMY, YUMMY, YUMMY, and YUMMY!
I hope you love it! Enjoy… and try and not eat the whole pan by yo self. 😉 It's a tough life, but somebody has to do it. 🙂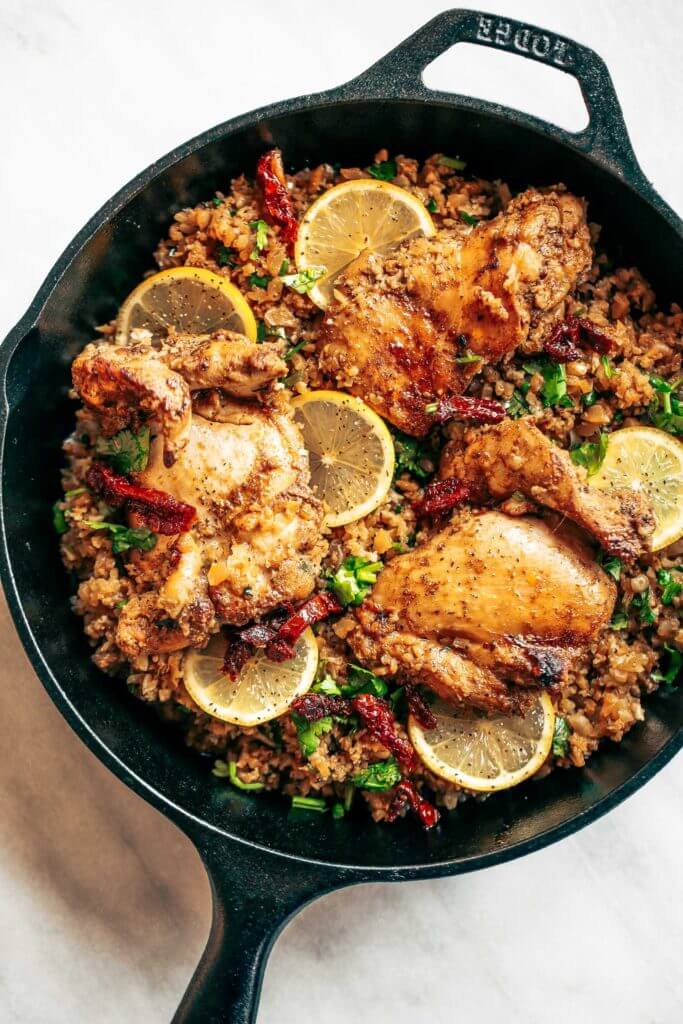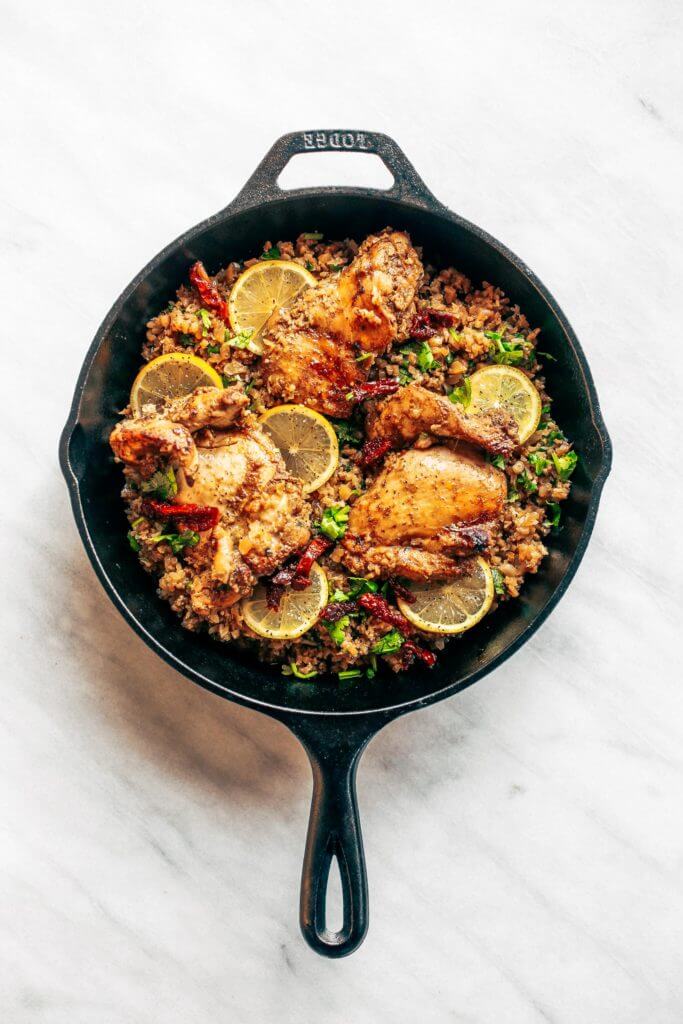 In a small bowl mix together the spices for the chicken, then rub half of it on chicken (reserve half for later)

Heat a skillet over medium heat then drizzle with 1-2 tablespoons olive oil and cook chicken until golden brown on each side (about 2-3 minutes on each side- you will finish cooking it later). Then remove and set aside.

Fill skillet with cauliflower rice, stock, lemon juice, and the other half of the spice mix. Stir the cauliflower rice then set chicken thighs over rice and cook on medium/low heat for 20 minutes until chicken is cooked through.

Garnish with chopped cilantro and lemon wedges (optional).
Nutrition Facts

Whole30 Spanish Chicken And Cauliflower Rice

Amount Per Serving

Calories 201

Calories from Fat 90

% Daily Value*

Total Fat 10g 15%

Cholesterol 75mg 25%

Sodium 742mg 31%

Potassium 352mg 10%

Total Carbohydrates 7g 2%

Protein 20g 40%

* Percent Daily Values are based on a 2000 calorie diet.