---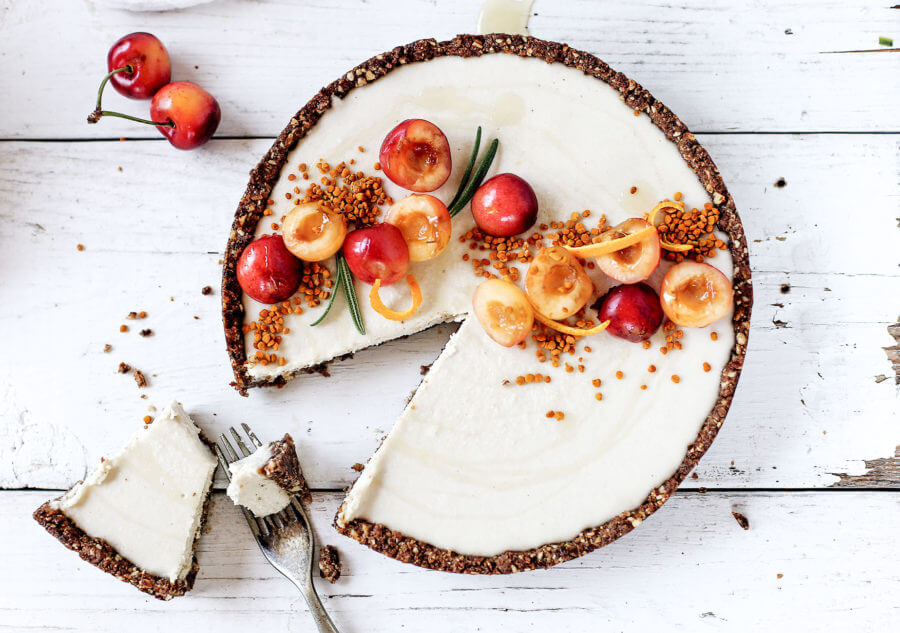 Raw vanilla bean and cherry cheesecake made with paleo ingredients. Creamy cashew filling in a "graham cracker" crust. Stores well in the fridge and freezer. Naturally gluten free and dairy free. 

Print Recipe Raw Vanilla Bean Cherry Cheesecake Raw vanilla bean and cherry cheesecake made with paleo ingredients. Creamy cashew filling in a "graham cracker" crust. Stores well in the fridge and freezer. Naturally gluten free and dairy free.  Ingredients Filling Dessert Votes: 1
Rating: 5
You: Rate this recipe! Info Prep Time 4 1/2 hours Servings slices MetricUS Imperial Course Dessert Votes: 1
Rating: 5
You: Rate this recipe! Ingredients Filling
Preheat oven to 400F. Cut out a 10" circle of parchment paper and set it in the bottom of a 10" round spring form cake pan.
Pulse together the almonds and pecans until minced. Then add dates and the rest of the ingredients for the crust. Blend together into a coarse texture.
Press the crust into the bottom of the cake pan. Set aside for later (if you want a raw cheesecake) or cook on 400F for 20-25 minutes or until golden brown.
Puree the soaked cashews in a food processor for a few minutes until they become a smooth texture. Then add in the rest of the ingredients for the filling and puree until completely smooth!
Spread the filling over the crust. Then freeze for about 2 hours until firm.
Once the cheesecake has firmed up, take it out of the freezer and top with fresh cut cherries and bee pollen.
Nutrition Facts Raw Vanilla Bean Cherry Cheesecake Amount Per Serving Calories 307 Calories from Fat 180 % Daily Value* Total Fat 20g 31% Saturated Fat 6g 30% Polyunsaturated Fat 3g Monounsaturated Fat 9g Sodium 33mg 1% Potassium 88mg 3% Total Carbohydrates 28g 9% Dietary Fiber 3g 12% Sugars 18g Protein 6g 12% Vitamin A 0.01% Vitamin C 1% Calcium 3% Iron 11% * Percent Daily Values are based on a 2000 calorie diet.
Read more