Sea Salt Cashew Butter Paleo Granola
---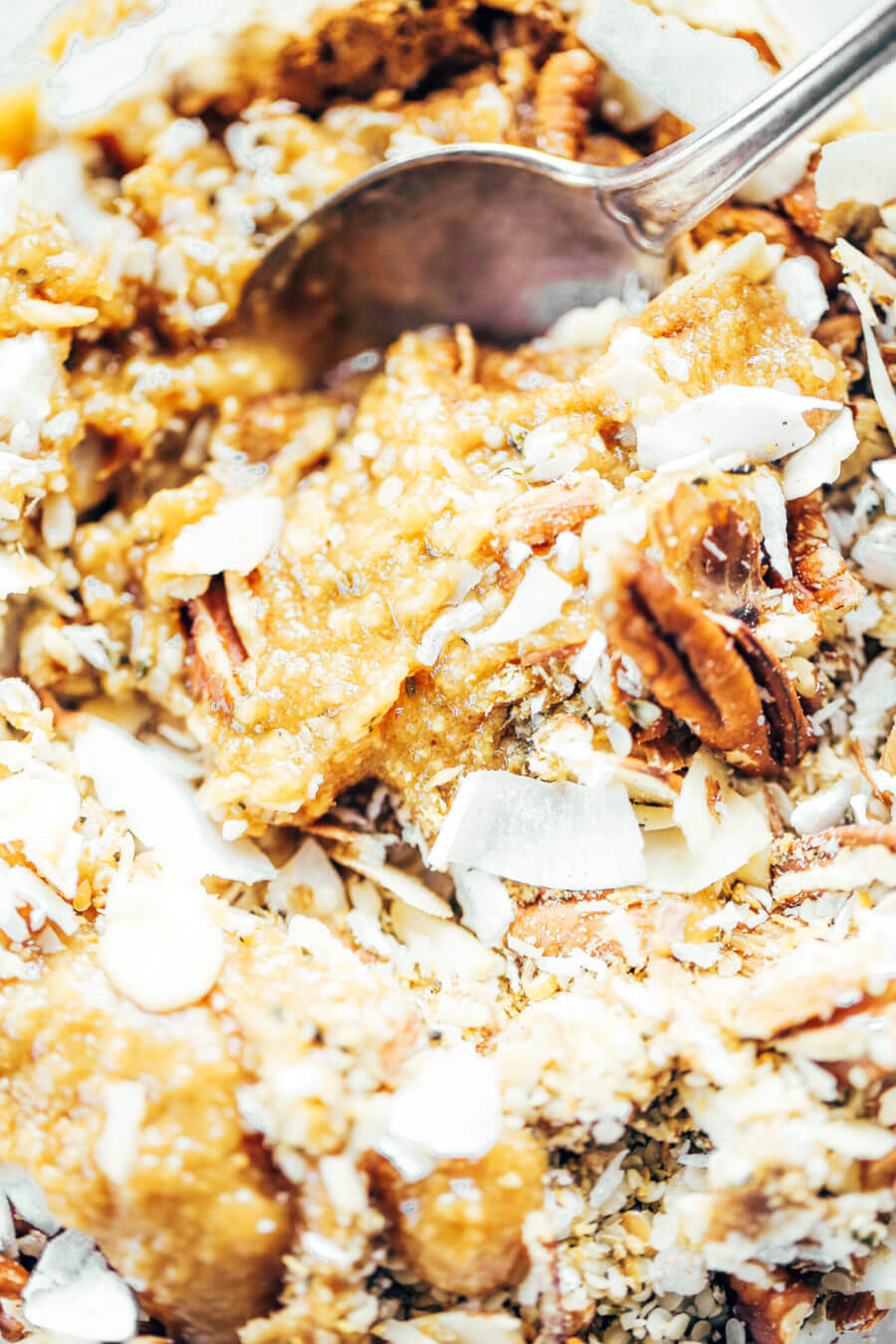 Crispy, crunchy, no oil, low in sugar, no grains, oats, or refined sugar! This healthy Paleo granola recipe is insanely delish and made in 30 minutes! Perfectly paired with coconut yogurt.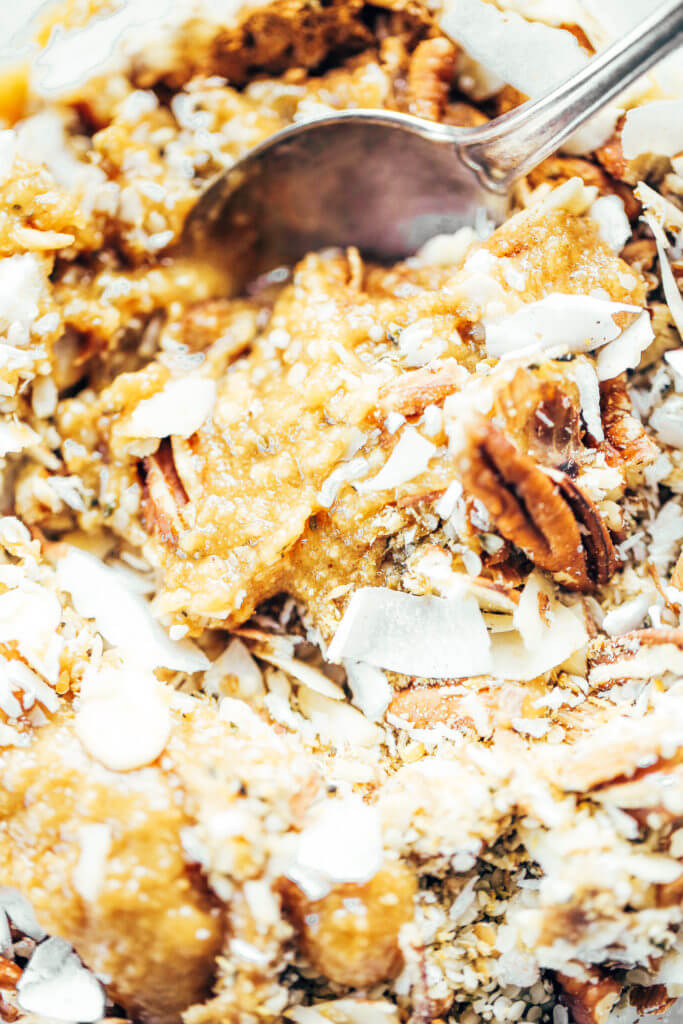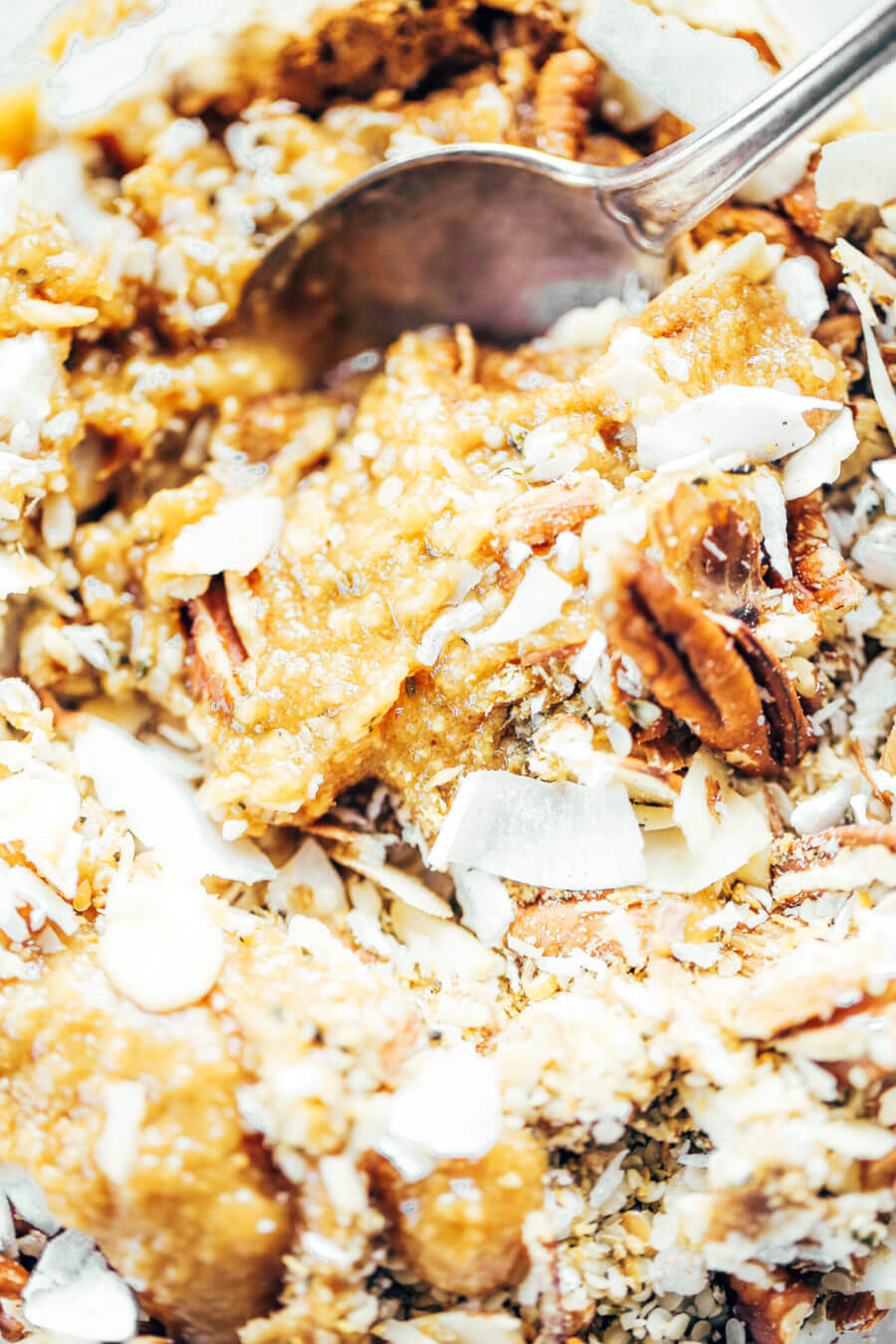 sea salt & cashew butter
You guys. Paleo granola! It's been on my mind for weeks now and today was the day I needed to make it happen. For reals, this granola is my favorite recipe I have made so far! And for three reasons. Ready?
So crunchy and tasty!! But also has a delightful almost chewy inside when you bite into a big chunk! Goodness.
This recipe is super low in sugar compared to so many recipes I've tried. When I want breakfast, I don't want a big bowl of sugar (even if it is coconut sugar). This rad recipe doesn't contain any fruit, because I was aiming to keep it strictly simple. Okay, this is getting a bit long, but another tip on making low sugar/healthy granola. You can exchange the maple syrup in this recipe for my homemade date syrup which makes this recipe 100% whole foods, zero processed ingredients!
Okay, okay, three. You wouldn't believe the magic that happens when this crisp and delicious granola dives into a scoop of this coconut yogurt!! Match made in heaven.
(Let's just not mention that I actually have four epic reasons why I'm in love with this granola, okay?) This recipe literally was whipped up in less than a few minutes. So, basically, if you are craving granola you won't need to wait very long until it's in yo mouth!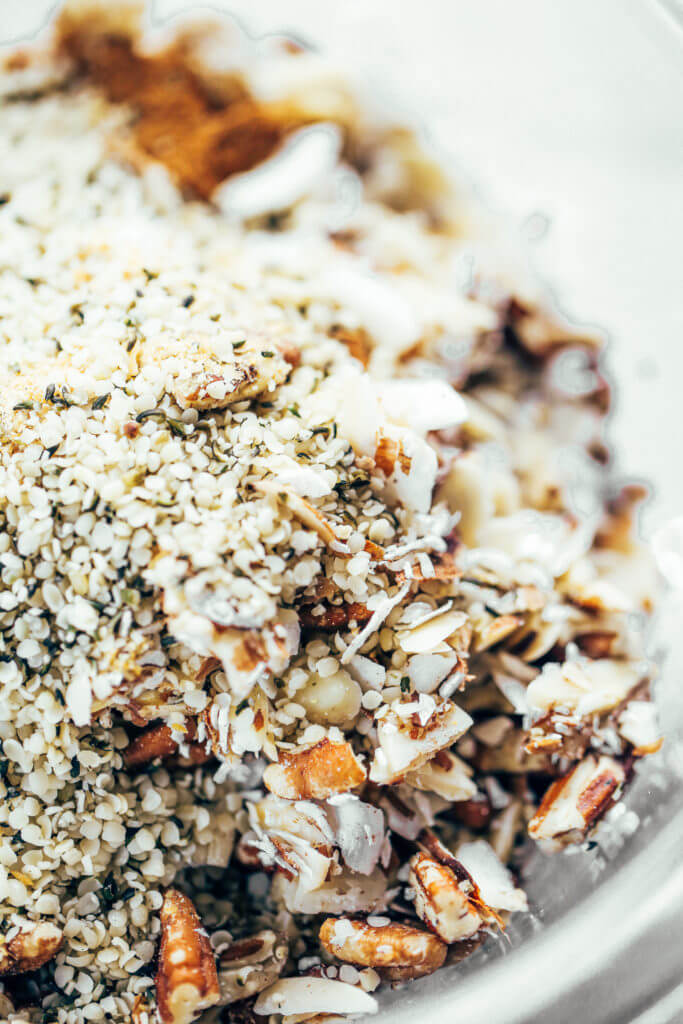 eat, work, play, sleep, repeat.
All these sunny days have me on a mean and dialed in summer schedule. Wake up, head to the kitchen. Cooke, bake, snap photos before the lighting is too harsh, then head out into the water for a lax SUP tour of the lake. After paddling around and swimming it's time to head back and hit the lap top for some hard core blog writing stuff (all that computer jazz that I don't like to do when it's glorious and sunny out).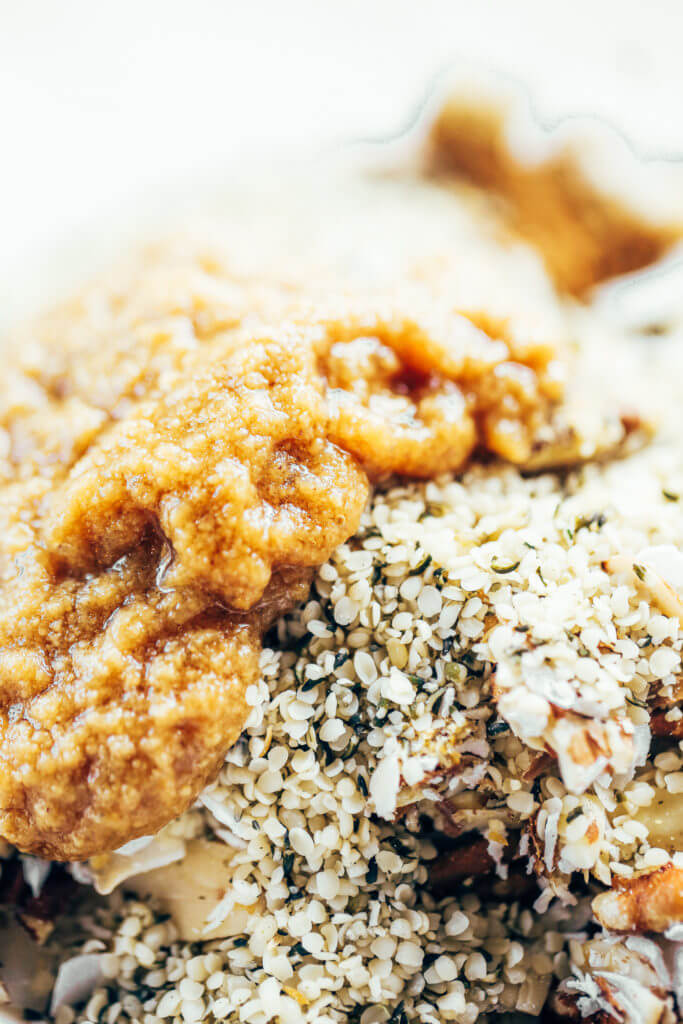 My favorite place in the evenings is on couch with my lap top… or actually, syncing my phone to my keyboard, so I can just type away without looking at a screen, da best!! So much healthier for my eyes. Try it and thank me later.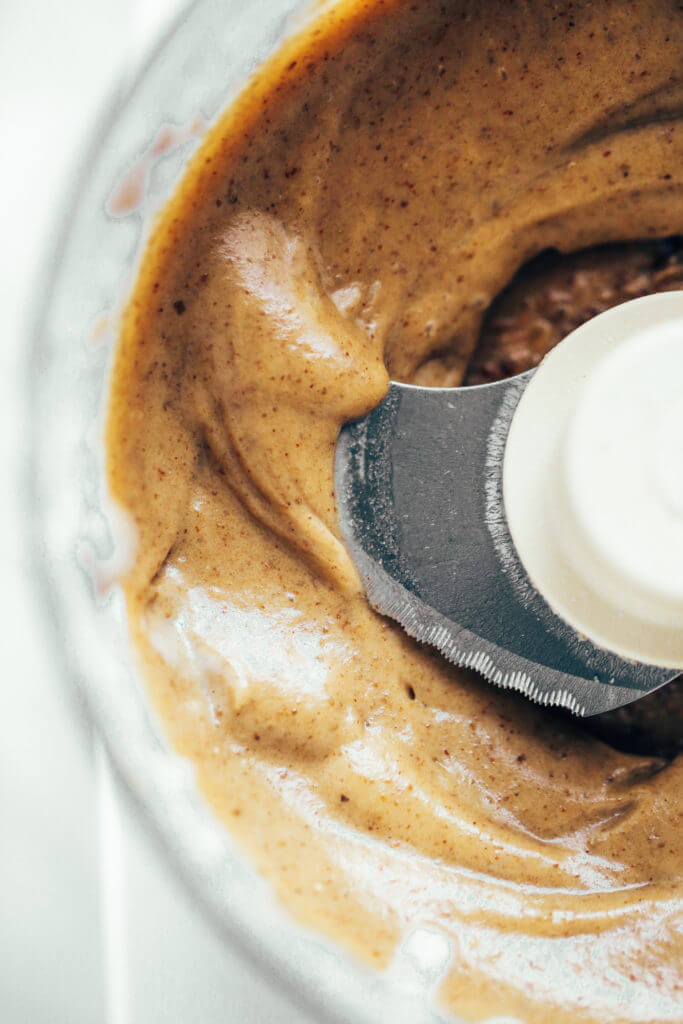 This routine has been on repeat and so far I'm not board!
Okay, I know you didn't visit this post just to hear about my week, so let's dig into this bowl of granola. Who's ready?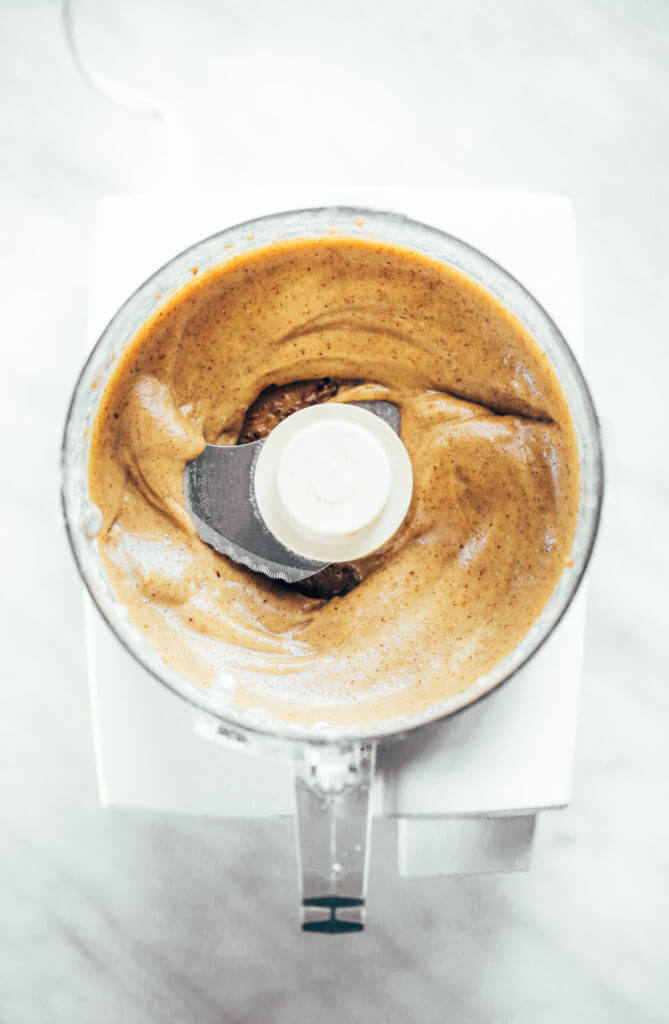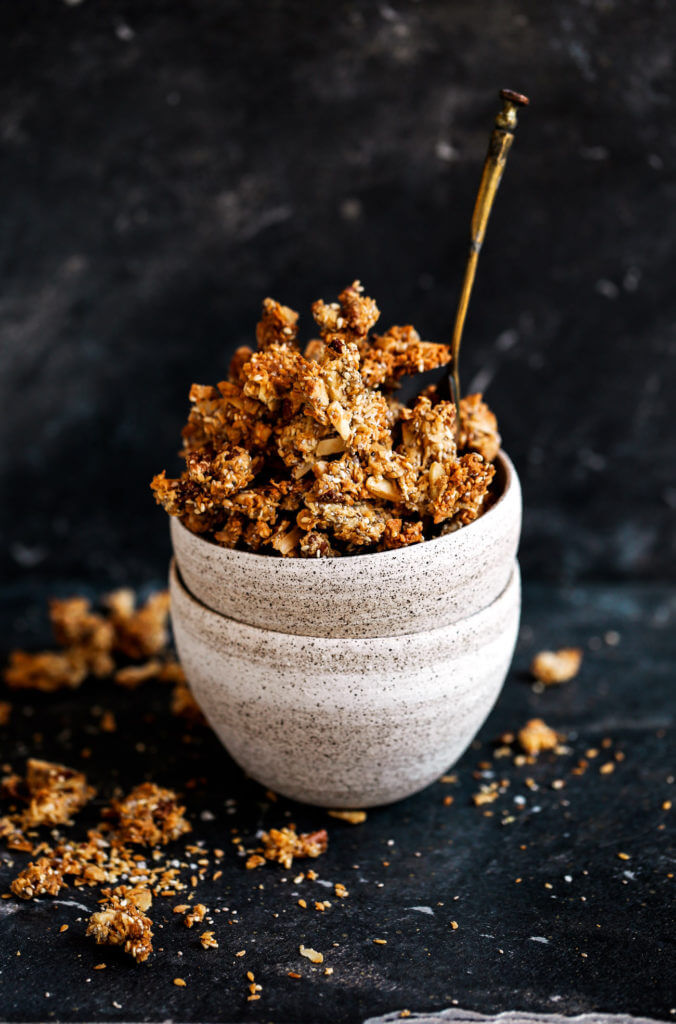 Preheat oven to 325F. Toss all ingredients together in a medium size mixing bowl.

Line a baking tray with parchment paper. Spread granola out on baking tray. Bake on 325F for 20-25 minutes until golden.
Nutrition Facts

Sea Salt Cashew Butter Paleo Granola

Amount Per Serving

Calories 660

Calories from Fat 522

% Daily Value*

Total Fat 58g 89%

Sodium 14mg 1%

Potassium 4mg 0%

Total Carbohydrates 30g 10%

Protein 13g 26%

* Percent Daily Values are based on a 2000 calorie diet.