---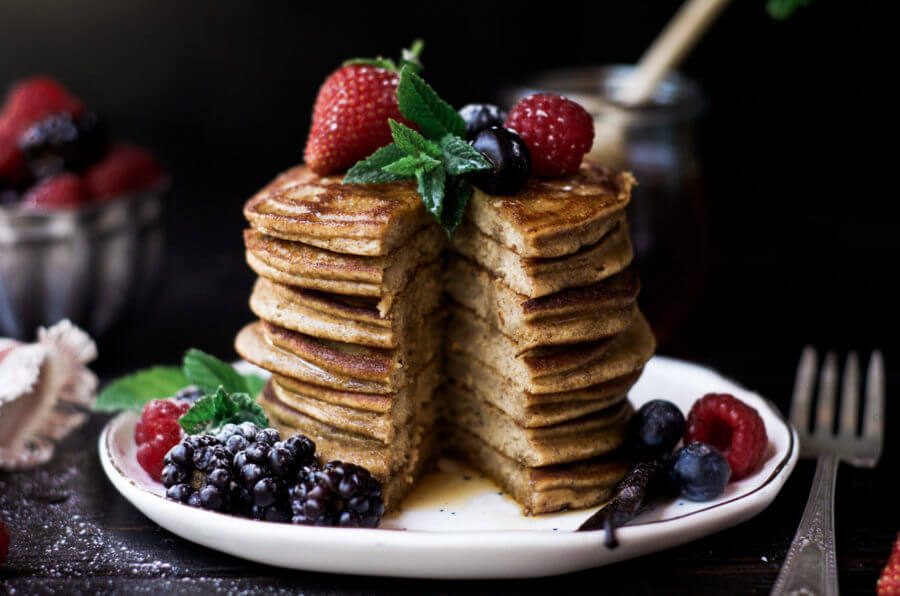 Paleo pancakes made with only four ingredients! These soft and flavorful grain free pancakes are so addictingly delicious and easy to make. The rich and tasty flavors from these pancakes are perfect paired with fresh juicy berries and a drizzle of maple syrup.

Print Recipe 4 Ingredient Paleo Pancakes Paleo pancakes made with only four ingredients! These soft and flavorful grain free pancakes are so addictingly delicious and easy to make. The rich and tasty flavors from these pancakes are perfect paired with fresh juicy berries and a drizzle of maple syrup. Ingredients Info Cook Time 2 minutes for each pancake Prep Time 3 minutes Servings four inch pancakes MetricUS Imperial Course Main Dish Votes: 6
Rating: 3.5
You: Rate this recipe! Recipe Notes

If you don't have plantains, you can substitute with 2 bananas.

Info Cook Time 2 minutes for each pancake Prep Time 3 minutes Servings four inch pancakes MetricUS Imperial Course Main Dish Votes: 6
Rating: 3.5
You: Rate this recipe! Recipe Notes

If you don't have plantains, you can substitute with 2 bananas.

Ingredients Instructions
Combine all of the ingredients in a food processor or high powered blender and blend until smooth.
Heat a fry pan over medium heat (you can also use an electric pancake griddle).
Pour 1/4 cup of batter for each pancake onto the griddle and cook for 1 minute on each side until cooked through and golden brown.
Nutrition Facts 4 Ingredient Paleo Pancakes Amount Per Serving Calories 97 Calories from Fat 72 % Daily Value* Total Fat 8g 12% Saturated Fat 1g 5% Sodium 38mg 2% Total Carbohydrates 3g 1% Dietary Fiber 2g 8% Sugars 0.5g Protein 3g 6% Calcium 6% Iron 3% * Percent Daily Values are based on a 2000 calorie diet.
Read more