---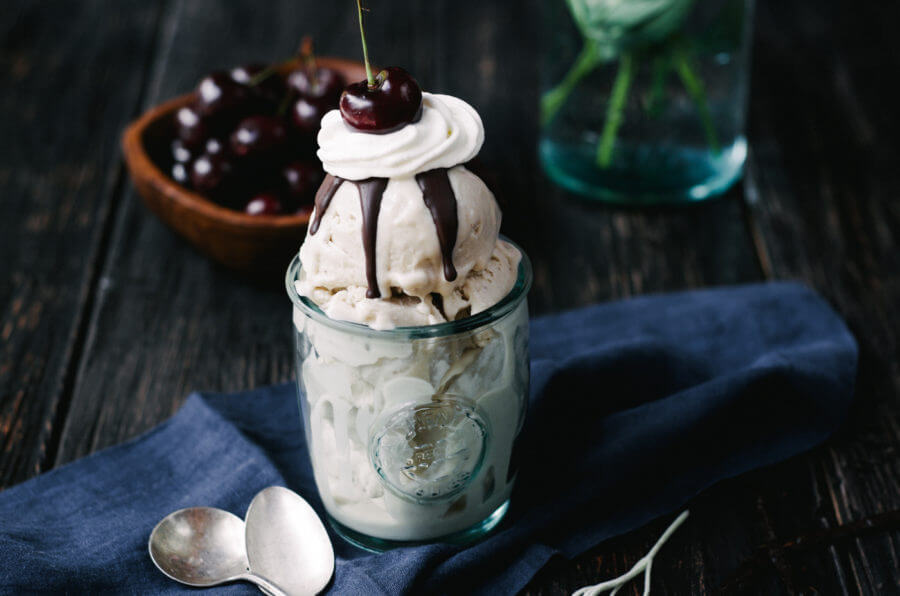 Nothing says summer like this rich and creamy Banana Split. This smooth and decadent frozen dessert is dairy free, paleo, and has a vegan option as well.

Print Recipe Dairy Free Banana Split Ice-Cream Nothing says summer like this rich and creamy Banana Split. This smooth and decadent frozen dessert is dairy free, paleo, and has a vegan option as well. Ingredients Ice-Cream Dessert Votes: 2
Rating: 5
You: Rate this recipe! Recipe Notes

In order to make this ice-cream Vegan, simply leave out the egg.

Info Passive Time 20-30 minutes depending on the brand of Ice-Cream machine Prep Time 8 minutes Servings people MetricUS Imperial Course Dessert Votes: 2
Rating: 5
You: Rate this recipe! Recipe Notes

In order to make this ice-cream Vegan, simply leave out the egg.

Ingredients Ice-Cream
Combine all of the ingredients for the ice-cream in a blender and blend until smooth
Follow the instructions on your ice-cream machine and churn until the ice-cream is thick and smooth.
To make the chocolate sauce, melt the chocolate chips and coconut oil together in a double boiler until the chocolate has melted. Stir the chocolate sauce until the coconut oil is well combined.
Once the ice-cream has finished churning, serve with sliced banana, chocolate sauce, cherries, and whipped cream.
Nutrition Facts Dairy Free Banana Split Ice-Cream Amount Per Serving Calories 354 Calories from Fat 243 % Daily Value* Total Fat 27g 42% Saturated Fat 17g 85% Polyunsaturated Fat 1g Monounsaturated Fat 6g Cholesterol 81mg 27% Sodium 24mg 1% Potassium 109mg 3% Total Carbohydrates 29g 10% Dietary Fiber 1g 4% Sugars 23g Protein 3g 6% Vitamin A 17% Vitamin C 4% Calcium 6% Iron 7% * Percent Daily Values are based on a 2000 calorie diet.
Read more