---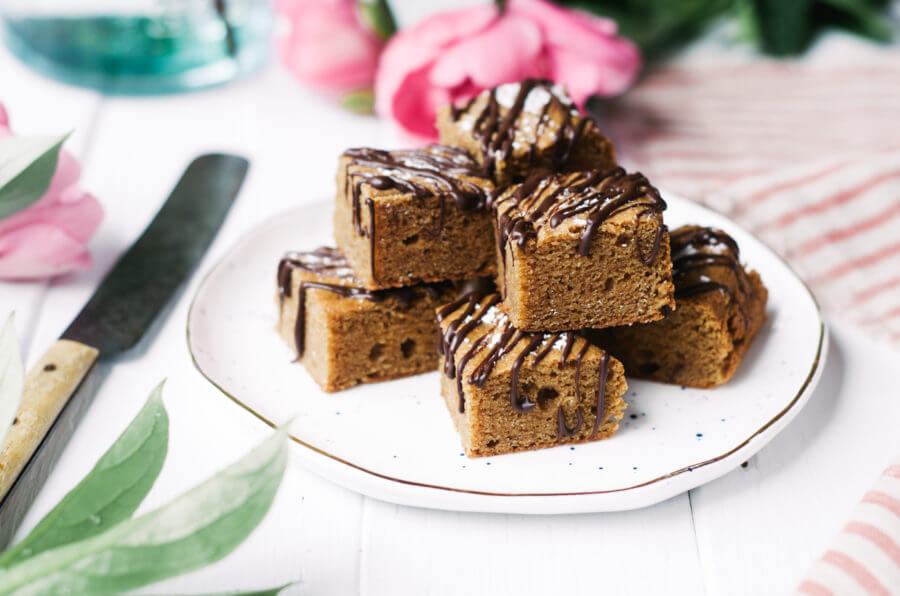 This Paleo snack cake is so incredibly moist and practically melts in your mouth. Tastefully drizzled with luscious chocolate sauce, this grain free dessert makes a perfect snack for those sweet tooth cravings.

Print Recipe Paleo Cake Bites This Paleo snack cake is so incredibly moist and practically melts in your mouth. Tastefully drizzled with luscious chocolate sauce, this grain free dessert makes a perfect snack for those sweet tooth cravings. Ingredients Cake Dessert, Snack Votes: 1
Rating: 5
You: Rate this recipe! Info Cook Time 30 minutes Prep Time 5 minutes Servings MetricUS Imperial Course Dessert, Snack Votes: 1
Rating: 5
You: Rate this recipe! Ingredients Cake
Preheat the oven to 350 degrees and line a 4 inch by 4 inch baking pan with parchment paper.
Combine all of the ingredients for the bars either by hand or with a food processor or blender. Blend until the batter is completely smooth.
Pour the batter into the baking pan and cook on 350 degrees for 30 minutes.
To make the chocolate drizzle, melt the chocolate chips and coconut oil together in a double boiler until the chocolate has melted. Stir the chocolate sauce until the coconut oil is well combined.
Once the cake has cooled, cut into small squares and drizzle with chocolate sauce.
Nutrition Facts Paleo Cake Bites Amount Per Serving Calories 314 Calories from Fat 225 % Daily Value* Total Fat 25g 38% Saturated Fat 10g 50% Polyunsaturated Fat 0.4g Monounsaturated Fat 1g Cholesterol 23mg 8% Sodium 178mg 7% Potassium 10mg 0% Total Carbohydrates 19g 6% Dietary Fiber 4g 16% Sugars 12g Protein 8g 16% Vitamin A 1% Calcium 7% Iron 10% * Percent Daily Values are based on a 2000 calorie diet.
Read more