---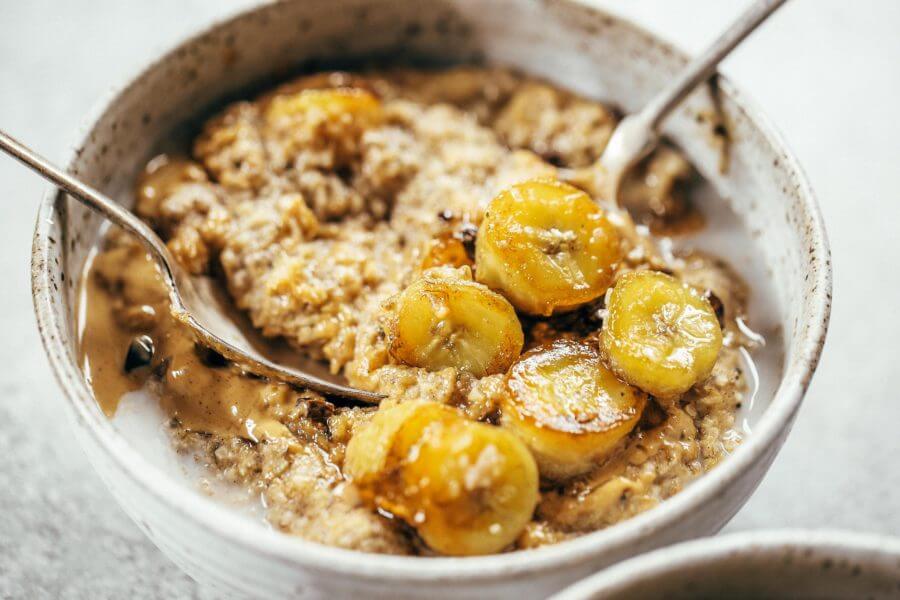 Warm and toasty Paleo banana cereal. Made with caramelized bananas, chia seeds, golden flax, hemp, and coconut. This grain free cereal tastes like oatmeal and is topped with my favorite caramelized bananas! Paleo, gluten free, healthy.

Print Recipe Caramelized Banana Grain Free Breakfast Cereal Warm and toasty Paleo banana cereal. Made with caramelized bananas, chia seeds, golden flax, hemp, and coconut. This grain free cereal tastes like oatmeal and is topped with my favorite caramelized bananas! Paleo, gluten free, healthy. Ingredients Cereal Main Dish Votes: 1
Rating: 5
You: Rate this recipe! Info Cook Time 3 minutes Prep Time 5 minutes Servings servings MetricUS Imperial Course Main Dish Votes: 1
Rating: 5
You: Rate this recipe! Ingredients Cereal
In a skillet (I use cast iron) heat coconut oil and maples syrup. Slice bananas into 1/2"- 1" rounds, layer into pan, and cook on each side until golden. Then set aside.
In a large sauce pan combine all ingredients for cereal and heat for 3-5 minutes until thick and creamy. Top with caramelized bananas, and any other toppings you prefer- I like cocoa nibs, nut butter, almond milk, and maple syrup.
Nutrition Facts Caramelized Banana Grain Free Breakfast Cereal Amount Per Serving Calories 630 * Percent Daily Values are based on a 2000 calorie diet.
Read more