How My Food Allergies Were Healed In One Hour
---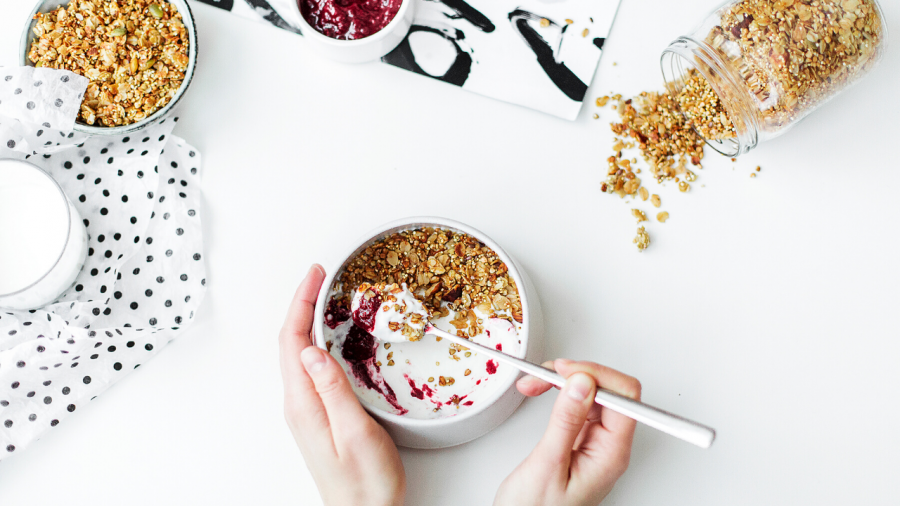 PLEASE READ BEFORE YOU BEGIN:
This is my personal experience and I know not everyone will understand or agree and that's okay- I'm not trying to push anything on anyone! I am only sharing this, because I have had SO MANY questions about how my allergies were healed and I can only say the truth of what I experienced. I know not everyone will understand where I'm coming from and that's okay. But I want to be clear that I am by NO MEANS suggesting that anyone with allergens should eat something they are allergic to just because they read this. I am only sharing my personal journey and I know what I experienced is true and that I once got incredibly sick from foods that I can now eat after an experience with Gods presence. I hope you can understand that I am not suggesting that how I was healed is how it should be for everyone! I'm just sharing my journey because so many people were asking and I can only say the truth of what happened. Honestly, it's easier for me if I didn't post this, but I want to be open and honest with you guys as you have supported my journey for so long! I hope you can take and leave what speaks to you.💕Please be kind and understand that we are all on our own journeys and I am just trying to help. Please do what is best for you, be wise(!!!), and consult your physician before you try anything at home! Thank you!
I used to not be able to eat almost anything.
My food groups were limited to: vegetables, poultry, fish, and nuts and seeds.
Yup! That meant no gluten, grains of any kind, dairy, sugar, caffeine, chocolate, or even fruit!
No fruit?? Like, what is that about?
You can forget about chocolate or even coffee.
All of it, I was allergic to.
What would happen if I ate one bite of a banana?
I would get shaky and sick.
If I had just one lick of honey,
I would get a fever almost immediately.
Sad times for real.
I remember the day everything changed.
It only took one hour for my life to change completely.
A new world was opened up to me and I was no longer bound by limits, allergens, and do's and don'ts.
What is life without chocolate anyway! 🙂
Growing up, my mom, brothers, and sister had food allergens as well.
It manifested in each person in it's own very special way, but it didn't change the fact that I ate wheatgrass and sprouted buckwheat groats as a kid.
Then, as I grew older, the food allergens started to come into play in my own life.
I had always been the only one of the kids that didn't have allergens.
Gradually, they developed when my health tanked at age sixteen.
The years of chronic health disorders took a toll on my body and food allergens were one of the results from this.
I thought that was how my life was going to be forever.
Sometimes, I got anxious over the thought of the cycle never ending and that's when I began to seek answers for change- outside of all the doctors, tests, and treatments I had already tried!
I had gotten the tests and been told I would always be allergic to these foods and never be able to eat them again.
I had flown halfway across America to get the allergen treatments done that supposedly "fix your body", but that didn't change anything, except the bank account lol. 🙂
I was always the person that never ate at friends houses and would stare at other peoples food when we went out to eat.
On backpacking and river trips, you could find my lettuce, kale salad, and hard boiled eggs chilling in the stream.
I really wanted to know if there was another way.
I wanted out, but I needed something that was beyond me…
And I had to be willing to give up everything I knew and abandon my safety, my current surroundings and beliefs to go into that place.
Because, I couldn't go through that next door, unless I shut the door to the room I was currently in.
A person can't be in two rooms at once, so it was either to stay in the comfort of familiar surroundings or risk my comfort to enter a room that might look different, new, uncomfortable, and even unrecognizable…
There, in that place, I had to ask questions to understand how things worked.
I had a relationship with Jesus and believed in His work on the cross for my salvation, but what I was about to learn blew my mind even more!
I began to search God's word, the bible to understand how God thought about food, seeking His wisdom for answers, and as I read, I felt Him begin to teach me what my mind couldn't.
He brought understanding, clarity, healing, and peace like I didn't know before.
Walking into that new room is scary, but when I focused on the fact that He was my guide and I could ask Him questions and let Him teach me, all of a sudden the weight of trying to understand things was lifted off me and I could just learn, listen, and obey what He taught me.
In that one hour time span, I felt something lift off me!
A new understanding came into my heart of the love God had for me and finished work of the cross of Jesus Christ and I was flooded with love, hope, peace and knew I was healed!!!
I ran up the steps of the porch, into the house, and took a bite of banana… nothing happened.
I took another bite and waited… again nothing happened.
That day, I ate six bananas with no allergic reaction and have been free from food allergens ever since!
Eating out at friends houses is something I do now and I can eat out!
I eat all the cinnamon rolls from bakeries, I can eat the biscuits my sister makes with gluten on a lazy Sunday morning, and I eat chocolate almost every day. 🙂
I am free.
Jesus did the work and I said yes. Now I'm free!
I feel like I'm walking in a different world where the impossible is possible!
And I am, ALL because of You Jesus!
Thank you Jesus for touching me and showing me peace and freedom that I never knew was possible.
Your Holy Spirit's power brought miracles into my life and because of you, I live a completely different life than I did before!
My heart, mind, and soul have been changed; but also, when I take vacations to tropical places, now I can actually eat the mangos, pineapples, all the fruits and foods and have fun!!!
I couldn't before and it's all because of you Jesus!
Thank you Jesus for giving yourself so fully, so I could experience peace in my soul, mind, and body.
You gave everything to me to show me your love and I didn't have to do anything except receive it and I am in awe of who you are.
I love you.
Here are a few verses that changed my life forever:
"And you will know the truth, and the truth will set you free." John 8:32
"Therefore confess your sins to each other and pray for each other so that you may be healed. The prayer of a righteous person is powerful and effective." James 5:16
"But he was bruised for our sins, he was crushed for our iniquities. The punishment that brought us peace was upon him and by his stripes we are healed (saved, healed, and delivered)." Isaiah 53:5
"For everything God created is good, and nothing is to be rejected if it is received with thanksgiving, because it is consecrated by the word of God and prayer." 1 Timothy 4:4-5
"So go ahead. Eat your food with joy, and drink your wine with a happy heart, for God approves of this!" Ecclesiastes 9:7
"All right then, the Lord himself will give you the sign. Look! The virgin will conceive a child! She will give birth to a son and will call him Immanuel (which means 'God is with us')." Isaiah 7:14