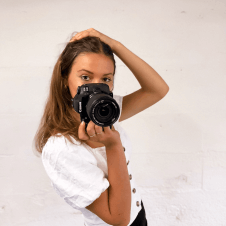 Welcome
I'm Kaylie
✻
Hi there! I am Kaylie, the face behind the food. I usually have a camera in my hand, am dancing in the kitchen, or licking chocolate off the spatula. 🙂 All I want for Christmas is kale chips in bulk. My dream is to live in a house surrounded by nature (probably by the ocean or mountains) with so many windows that you feel like you are living outside… that's where I want to work 🙂 In my free time, you can probably find me hiking, paddle boarding, or spending time with my friends and family.
A little back story… I went through a really crummy time of being super sick on bed rest through my teen years and into my early twenties. It started with mono, then went to: adrenal burnout, Hashimoto's disease, thalassemia, anemia, pernicious anemia, allergies, fibromyalgia, depression, and leaky gut. I couldn't get out of bed for weeks at a time, I couldn't lift a glass of water by myself at times, and I never thought I would be free from the constant terrible pain. I couldn't walk even up the driveway and the doctors didn't want me going to the fridge to make a sandwich. I had no hope, I was in pain, depressed, and weak. For six years, I couldn't remember the last moment I wasn't in excruciating pain… until now…
I'm happy to report that only through prayer and faith to/in Jesus, I have been healed of my allergies and now eat whatever I want! The foods that used to make me shake uncontrollably and collapse on the ground and give me fevers, now bring joy and no issues! And yes, I eat dairy and wheat on the regular, because this girl loves her greek yogurt and bagels! I am not longer on medication, even though the doctors told me that I would be on them FOR THE REST OF MY LIFE. I can now walk up to 6-8 miles daily! I had to learn in the depths of my heart, that God's will is always for healing, that sickness is NOT from him, and that he paid the price for my freedom, because he loves me. He healed my heart, then my body started responding and miracles happened! (There is much more to it then that, but you for time's sake😜)
"But he was wounded for our transgressions, he was bruised for our iniquities: the chastisement of our peace was upon him; and with his stripes we (I, Kaylie and you!!) are healed." -Isaiah 53:5
"Go, eat your food with gladness, and drink your wine with a joyful heart, for God has already approved what you do." -Ecclesiastes 9:7
"Do not conform to the pattern of this world, but be transformed by the renewing of your mind. Then you will be able to test and approve what God's will is—his good, pleasing and perfect will." Romans 12:2
"Dear friend, I pray that you may enjoy good health and that all may go well with you, even as your soul is getting along well." -3 John 1:2
I am continuing to give time to my recovery, but I am miles from where I used to be and don't feel like the same person I used to be (mentally and physically). I started this blog to share my healthy recipes with others, so they could experience the joy of cooking nourishing food that tastes good. 🙂 But I also want you to know that if you are struggling with a health issue and you feel defeated, I would be honored if you would let me pray for you. I believe Jesus will bring the miracle! Please email me at [email protected] if you would like to set up prayer for healing. Welcome and thanks for stopping by! Blessings!
xx Kaylie
A little about me
Plus faq
✻
Coffee or tea? Kombucha.:)
Favorite childhood recipe? My all-time-favorite cranberry muffins from Betty Crocker. Those things are literally my first obsession; it was real. They were the very first thing I ever baked as a kid- shortening and all.
Foodie crush? It's gotta be Half Baked Harvest, this girl is rocking the food world right now. Obsessed with everything she has to offer.
Do I eat strict paleo? I used to… The only foods I used to be able to eat were: poultry, fish, nuts + seeds, and a handful of vegetables. Now, I strive for a healthy balanced healthy lifestyle. I eat a little of everything, mostly plants, not a lot of meat, sometimes paleo, sometimes raw-vegan, and sometimes gluten-cheesy-pizza with all the toppings!
Favorite recipes on the blog? That's hard, but these would definitely be top on the list! Paleo Sweet Potato Gnocchi, Crispy Sweet Potato Fries, Cauliflower Blender Falafel.
Now that you know a little about me, I want to hear from YOU!! Let's stay connected on Instagram or by email.
~Kaylie